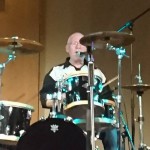 Ruud (August 28) started in 1985 together with initiator Wim Pols, Hans Steeds and Mijndert van der Beek, the Country Trail Band next to his other musical pursuits. The four had a mutual desire to express their ideals through ministry based performances.
In 1990 he chose to fully concentrate on his mission in the Country Trail Band and stopped his other musical pursuits (at that time the very successful, award winning Red Hot Dynamite Band). Today he also plays in: The Senior String Band and Mission Grace, and is active as a session and studio drummer.
Bands Ruud plays/played in:
Country Trail Band (1985-today)
Mission Grace (2013-today)
Senior String Band (= ex-Calyx) (2015-today)
Calyx (1977-1980; 2002-2007)
Buckskin (1980-1985)
Red Hot Dynamite Band (1985-1990)
Performed with:
Cathy Carter-Heiser (USA), Buddy Greene (USA), Jeff Taylor (USA), George Hamilton IV (USA), Ken Holloway (USA), Nathan and Susan Forrister (USA), Michael Ronstadt (USA), Ted Ramirez (USA), Vernon Oxford (USA), Tim and Mary Alice Lovelace (USA), Linda Randall (USA), Russ Taff (USA), Charlotte Ritchie (USA), Woody & Vonnie Wright (USA), Stephen Hill (USA), Reggie & Ladye Love Smith (USA), Gordon Mote (USA), Stig Sjöberg (S), Piet Smit (SA), Frank Jansen (NL), Sandra Vanrijs (NL), … and many more.
Live touring in:
Netherlands, USA, Belgium, Germany, France, Spain, UK, Denmark, Norway, Sweden, Austria, Czech Republic, South Africa.
Appeared on (selection):
Grand Ole Opry (USA), Flevo Festival (NL), Floralia Country Show (NL ), EO TV (NL), EO Radio (NL), KRO Radio (NL), NCRV Radio (NL), TROS Radio ( NL), TV38 (USA), Craponne sur Arzon (FR).
Gear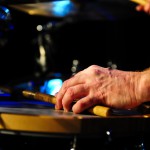 Drums: Yamaha Oak Custom – color: Solid Black: Bass Drum: 18×17 (with Remo Pinstripe – batter head, Remo Resonant head); Toms: 8×7, 10×8, 12×9, 14×14 (all toms with Yamaha wood hoops and Remo Ambassador batter heads and Ambassador resonant heads); snare drums: 14×6 Yamaha Signature "Anton Fig"; 14×5 1/2 Oak (both snare drums have Remo Power Stroke P3 batter heads and Remo snare side heads).
Cymbals: Sabian – 13" AAX X-Celerator Hi-Hat, 20" AAX Dry Ride, 17″ Vault Crash, 16" HH Dark Crash, 16″ AA Thin Crash, 16" AAX Studio Crash, 14" AAX Studio crash, 13" AA Extra Thin crash, 12" HHX Splash, 6″ AA Splash.
Sticks: Vic Firth: 2BN, 5BN, Jazz Rake, Rock Rake, Rute; Vater: wire brushes; Regal Tip: wire brushes, Blasticks; Promark: 747, HotRods.
Overview of recordings
Overpeinzingen (1977) – cabaret de Weipoort (sticht. Gemiva): drums (Recorded at Seagull Sound Studio, Den Helder, Netherlands)
Tracks and Traces (1978) – Calyx: drums
Wim Pols (1985) – Wim Pols: drums and backing vocals (Drums and percussion (Recorded at Hoek van Holland, Netherlands)
Don't Play For Nothing (1992) – Country Trail Band: drums and backing vocals (Recorded at Dureco Studio's Weesp, Netherlands)
In The Eye Of The Storm (1994) – Country Trail Band: drums and backing vocals (Title track was awarded Country Song of the Year 1994) (Recorded at Dureco Studio's Weesp, Netherlands)
Make Up Your Mind (1995) – Country Trail Band: drums and backing vocals (Recorded at Dureco Studio's Weesp, Netherlands)
Borrowed Time (1995) – Nathan & Susan Forrister (USA) – drums (recorded at Studio in Bremen, GA, USA)
He's Got The Road (1998) – Country Trail Band: drums and backing vocals (Recorded at Dureco Studio's Weesp, Netherlands)
Country Christmas (1999) – Wim Pols: backing vocals (Recorded at Studio Douwe Buiter, Klazinaveen, Netherlands)
Fly Back Home To You (2000) – Wim Pols & Calyx: harmony vocals (Recorded at Studio Douwe Buiter, Klazinaveen, Netherlands)
Thanksgiving In The Country (2001) live CD & DVD – George Hamilton IV & Calyx: drums and backing vocals (Recorded live concert at Pelgrimvaderskerk, Delfshaven [Rotterdam], Netherlands)
Iets dichterbij (2001) – Wim Pols and the Country Trail Band: drums and backing vocals (Recorded at Eljakim, Dordrecht, Netherlands, by Mobile Studio dB mg [Ronald Kanne])
Tel uw zegeningen (2001) – Wim Pols and the Country Trail Band: drums and backing vocals (Recorded at StudioBorderline, Emmercompascuum, Netherlands)
Two Doors Down (2003) – Wim Pols and Calyx: drums and backing vocals (Recorded at Studio Borderline, Emmercompascuum, Netherlands)
Labour Of Love (2003) – Country Trail Band: drums and backing vocals (Recorded at Studio Borderline, Emmercompascuum, Netherlands)
Komt verwondert u (2003) – Country Trail Band and Calyx, drums and backing vocals (Recorded at Wim Pols Studio, Hoek van Holland and Studio Borderline, Emmercompascuum, Netherlands)
Keep On Trucking (2003) – Wim Pols and Calyx, drums and backing vocals (Recorded at Wim Pols Studio, Hoek van Holland, Netherlands)
Daydream (2003) – Leo van Reeven: drums and backing vocals (Recorded at Wim Pols Studio, Hoek van Holland, Netherlands)
Breng Dank (2004) CD & DVD – Country Trail Band, drums and backing vocals (Recorded at Wim Pols Studio, Hoek van Holland, Netherlands)
Ontmoeting (2005) – Country Trail Band: drums and backing vocals (Recorded at Wim Pols Studio, Hoek van Holland, Netherlands)
Stories (2006) – Thécla Rutting: drums and backing vocals (Recorded at Wim Pols Studio, Hoek van Holland, Netherlands)
Country Gospel Classics (2006) – Country Trail Band: drums and backing vocals (Recorded at Wim Pols Studio, Maasdijk, Netherlands)
Breng het licht (2007) – Country Trail Band: drums and backing vocals (Recorded at Wim Pols Studio, Maasdijk, Netherlands)
Crossroads (2008) – John Schets and Jody Lynn Mitchell: drums and backing vocals (Recorded at Wim Pols Studio, Maasdijk, Netherlands)
History Of Country Music (2008) – Wim Pols and Calyx: drums and backing vocals (Recorded at Wim Pols Studio, Maasdijk, Netherlands)
Silver (2010) CD & DVD – Country Trail Band: drums (Recorded at Wim Pols Studio, Maasdijk, DVD at Zalencentrum 't Centrum, Bodegraven, Netherlands)
Ga naar het wonder (2011) – Piet Smit (SA) en the Country Trail Band: drums (Recorded at Wim Pols Studio, Maasdijk, Netherlands)
A Thing Called Love (2012) – Country Trail Band: drums and lead and backing vocals (Recorded at Wim Pols Studio, Maasdijk, Netherlands)
Home Where I Belong (2013) – Peter Gros: drums (Recorded at Wim Pols Studio, Maasdijk, Netherlands)
Nooit meer alleen (2013) – Maaike: drums (Recorded at Wim Pols Studio, Maasdijk, Netherlands)
Dwars door de storm (2013) – Country Trail Band: drums, percussion and backing vocals (Recorded at Wim Pols Studio, Maasdijk, Netherlands)
Herinneringen verbinden wat het oog niet meer ziet (2013) – Div. artiesten: drums (Recorded at Wim Pols Studio, Maasdijk, Netherlands)
Eerste Liefde (2013) – Piet Smit (SA) en the Country Trail Band: drums (Recorded at Wim Pols Studio, Maasdijk, Netherlands, and Piet Smit Studio, Pretoria, South-Africa)
America In Songs (2014) – Senior String Band: drums (Recorded at Wim Pols Studio, Maasdijk, Netherlands)
Through It All (2014) – Country Trail Band: drums and backing vocals (Recorded at Wim Pols Studio, Maasdijk, Netherlands)
Paradijsvogels (2015) – Country Trail Band: drums and backing vocals (Recorded at Wim Pols Studio, Maasdijk, Netherlands)
King of kings (2015) – Mission Grace: drums and percussion (Recorded at Wim Pols Studio, Maasdijk, Netherlands)
New Star Shining (CD: Falling Snow – Home For Christmas) (2015) – Neo Music, Wim Pols, percussion, drums
Daar ruist langs de wolken (2016) – Country Trail Band: drums (Recorded at Wim Pols Studio, Maasdijk, Netherlands)
You Are My All (2016) – Tim Hermsen: drums (Recorded at Wim Pols Studio, Maasdijk, Netherlands)
Paradijsvogels (2016) – Country Trail Band: drums and backing vocals (Recorded at Wim Pols Studio, Maasdijk, Netherlands)
Twee werelden, één hart (2016) – Piet Smit (ZA) and Country Trail Band: drums and backing vocals (Recorded at Wim Pols Studio, Maasdijk, Netherlands, and Piet Smit Studio, Pretoria, South-Africa)
Straight into the heart (2017) – Country Trail Band: drums and backing vocals (Recorded at Wim Pols Studio, Maasdijk, Netherlands)
Dankbaar (2018) – Country Trail Band: drums and backing vocals (Recorded at Wim Pols Studio, Maasdijk, Netherlands)
Schuilen (2018) – Elise: Drums and percussion (Recorded at Wim Pols Studio, Maasdijk, Netherlands)
Amazing (2018) – Mission Grace: Drums and percussion (Recorded at Wim Pols Studio, Maasdijk, Netherlands)
I Believe (2019) – Country Trail Band: drums and backing vocals (Recorded at Wim Pols Studio, Maasdijk, Netherlands)
Parels (2021) – Country Trail Band: drums and backing vocals (Recorded at Wim Pols Studio, Maasdijk, Netherlands)
Faithful and True (2022) – Country Trail Band: drums and backing vocals (Recorded at Wim Pols Studio, Maasdijk, Netherlands)